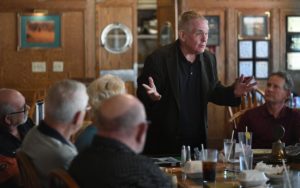 By Heather Larson Poyner hpoyner@kenoshanews.com
Bill Hetland and Scott Carney are in long-term recovery for Alcohol Use Disorder.
Getting help for themselves, these men now save the lives of others.
On April 1 of this year, Hetland marked his 37th year of sobriety.
"My sobriety has enabled me to care for Phil Anderson, my paralyzed life partner," he said. "Had I not received treatment, I would not have been able to care for myself, let alone someone else."
"(Bill) is a good man — if it wasn't for him I don't know where I'd be," Anderson said.
Five years ago, Scott Carney of Kenosha would have described himself as a functioning alcoholic.
But on his 50th birthday he decided to give himself the gift of sobriety and today guides countless people struggling with chemical dependencies to finding treatment options best suited to them.
"I navigate people and families through a turbulent time because that's what my family and I went through," he said.
Hetland, 74, of Kenosha, spent much of his pre-sober life as a newspaper reporter and editor. He started out in Belvidere, Ill., and worked for news outlets around the country. When he wrote a series of stories about alcohol addiction, Hetland began to realize his own challenges with the substance.
His recovery journey began in the spring of 1981 at a 12-step residential treatment center at the Hazelden Foundation in Center City, Minn.
"The second day of treatment I was so relieved — I knew I was in the right place," Hetland said.
When Carney was ready for treatment for his alcohol use disorder in 2013, he says there were few options in the Kenosha area. He went Minnesota for a seven-month residential treatment program followed by six months in a sober-living residence.
Returning to Kenosha, Carney plugged into Kenosha's recovery community, becoming involved with the Hope Council for Alcohol and Other Drug Abuse.
Carney began facilitating information for those seeking help with alcohol dependency from local crisis services and area hospitals. About a year ago he was contacted by Lakeview Behavioral Health, an addiction treatment and recovery center based in Jacksonville, Fla.
Liking what he learned about the organization's approach and one-on-one therapy for underlying issues, Carney became a representative for Lakeview Health.
These days he refers some people to Lakeview, but others to whichever local resources are best for their situation, he said. "I get calls from mothers not knowing what to do to people from all over the country."
The best programs, says Carney, instill "believable hope over hopelessness."
After he got sober, Hetland, too, switched gears to help others find their way to sobriety. "After 21 years as a newspaper editor, I decided I wanted to work for a program much like the one that saved my life," he said.
For the next 28 years he worked as a communications coordinator for Nicasa Behavioral Health Services in Lake County, Ill.
Retiring and returning part-time, he now works as the agency's DUI court liaison.
He also conducts presentations and training on addiction issues and has acted as a personal mentor, taking many people to their first AA meetings.
Hetland's successful sobriety is no little thing.
In 2001, Anderson was left paralyzed from a traffic accident. Hetland became his primary caregiver, which became complicated in 2015 when Hetland fell and snapped the tendons in both knees.
"In my drinking days, I would have used these things as an excuse to drink," Hetland said. "There have been times when we've both been completely overwhelmed."
To keep his cool, Hetland says he draws on his long-term recovery practices, which include the acronym HALT: " 'Don't allow yourself to become too Hungry, Angry, Lonely or Tired.' "
The Serenity Prayer also helps, he says. "I even scream it sometimes."
Says Anderson: "We've gone through so many things that I thought would make (Bill) have a drink; but he never did and I have been ever so proud of him."
Carney and Hetland are quite aware that caring for others keeps them on the steady path as well.
"This is part of my own recovery; I have the best job in the world, spreading hope and joy," Carney said.
Hetland's "No. 1" piece of advice, particularly for men: is "don't be afraid to ask for help." Also, "surround yourself with positive people."
Families and friends are part of the solution as well, adds Carney. "The best thing to do is ask for help."
Source: KenoshaNews.com